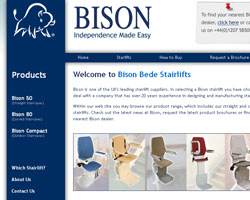 Bison Bede are a globally recognised stairlift manufacturer, operating since 1988 with dealers in around 20 countries.
This project required a complete redesign of the UK site, with full rebranding a the creation of a template that could be used on future localized sites. This also required converting all .htm pages to .php pages.
Once page extensions were changed, a redirection function was added ensuring all search engines and referred hits would reach the correct page. Custom rules were also added to redirect pages to their location in the new folder structure.
[click image to view full size screenshot]