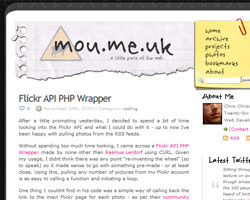 After a lot of consideration, and having fell in love with WordPress, the decision was made to complete redevelop the site using the WordPress framework. This involved migrating all existing tools and functions from classic ASP to PHP, and implementing a more up to date design (in line with new found photoshop skills!)
The site incorporates a blog with several main content pages listed in the navigation menu at the top of the page and any others listed on the sidebar.
Launched in 2007 (not long after I handed in my dissertation!), the aim of the site was to be use it as a portfolio of my work.
[click image to view full size screenshot]