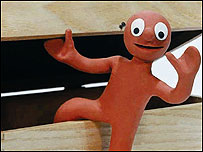 Tony Hart, one of the guys that dominate my memory of childrens TV as a kid, died yesterday ages 83. The guy was a legend, and will be missed.
I don't think I'll ever forget his character Morph (pictured above). Its one of those things I'll mention in 20 years and my kids will be looking at me like I'm an idiot…
I was saddened to read a story about him on the BBC website a few months ago, where he revealed that since his 2 strokes he was now unable to draw.
"My whole life has changed since my strokes," Hart wrote in The Times.

"After breakfast I would adjourn to my studio, built in my garden, until 4pm when I would change my shoes and set forth on a four-mile Gurkha-pace jog through the Surrey hills.

"Today my studio lies abandoned and I spend most of my day confined to my chair."
From what I saw of hartbeat, his TV show, art was obviously more than just a job to Tony – it was a passion. And to hear that after a lifetime of inspiring others through art he was left in this state, it makes me wonder whether Tony himself had decided it was his time to go.
Either way, its a sad day. He will be missed.
RIP Tony Hart.