If you're like me, you'll like to keep up with what your friends are up to but don't always have time to check Facebook. Or maybe you're just somewhere where access to the Facebook site is blocked. Work, school, etc.
This is a simple solution to bring the Facebook data to you. Using the dashboard widgets available in WordPress 2.5, this plugin will process your Friends status updates, posted items and/or your Facebook notifications RSS feed, and add a widget for each to your WordPress admin dashboard. So now you can keep up with whats going on in your friends lives from anywhere without needing to access Facebook!
As of version 0.9.8, you can also add these widgets to your blog front end. Just check your Widgets page once the plugin is installed and configured!
You can also customize the height and width of the widget, and the number of items displayed.
If you come across any bugs, let me know in the comments below. I'll also be adding support for internationalization before the 1.0 release.
Compatibility
As of version 0.10.1 this plugin only supports WordPress 2.8 or above. Although if you're desperately wanting to run it on a version of WordPress as low as 2.5, drop me an email and I'll send you over an older version of the plugin.
Installation
1. Download the plugin
2. Unzip facebook-dashboard-widget.zip
3. Upload the entire facebook-dashboard-widget folder to your plugins directory
4. Go to the Plugins page in your WordPress Administration area and click to 'Activate' the Facebook Dashboard Widget.
Setting Up
Setting up the plugin is relatively simple, but you'll need to add the relevant feed URL's from your Facebook page. Once you've installed the plugin, check out the options page at the bottom for detailed instructions on where to find what you need.
Screenshot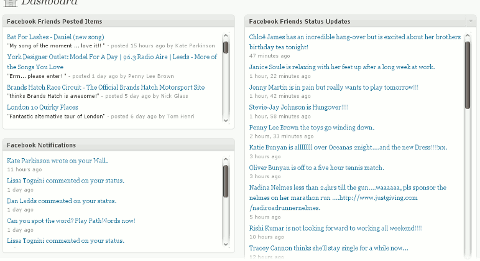 The Dashboard Widgets
Version History / Changelog
Version 0.10.1 – Replaced functions deprecated in WP 3.0 – min. requirement now WP 2.8+. Posted items fix. Widget control issue fixed. Various other minor fixes.
Version 0.10 – Fixed tags, WPMU support, DB options tidy up, plugin page settings link, now supports WP 2.7 and above
Version 0.9.9.3 – when_posted() fix, added readme.txt changelog, updated "how to find your facebook feeds" help section
Version 0.9.9.2 – Sidebar theme compatibility fix
Version 0.9.9.1 – Formatting fix
Version 0.9.9 – Fixed issue with posted items comments not showing
Version 0.9.8 – Sidebar widgets added
Version 0.9.5 – Widget height options for pre & post WP 2.7
Version 0.9.1 – WordPress 2.7 Compatibility
Version 0.9 – Added support for "posted items" feeds.
Version 0.8.1 – Added Dashboard Widget Manager support.
Version 0.8 – Beta Release
Thanks
To Ron ( http://wpmututorials.com ) for his help with WPMU compatibility.
Donation?
All my plugins/themes I've designed/built and provided on this site are free of charge, but the one cost that I can't recoup is the time I put in – not just the design time… but I'm a firm believer that you should be willing to support what you release, and as such I reply to all emails and comments I receive, and generally try and help people get the best out my code.
So if you feel like giving me the warm, fuzzy feeling of knowing someone cares, why not donate a couple of $/£ ? Its not mandatory in any way, but i guarantee it'll put a smile on my face 😉