(775px & 975px modes available – click thumbnail for larger image)
This is my 2nd entrant into the world of WordPress themes, and builds on a few lessons I learnt from my last attempt. And so, I proudly present, Modmat.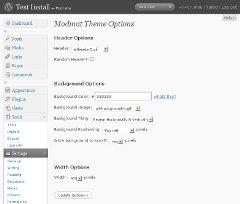 Modmat is a 3 column, widget ready "modern" style theme, and gives you the option to switch between 975px & 775px (default) widths. This gives you the chance to choose whether you want optimum viewing on an 800×600 or 1024×768 monitor (dependent on your target audience I guess!). The theme also comes with 5 header images I prepared myself (sorry if they're a bit crappy), all of which you can select from the Modmat options page (see left). You can also use your own header images by placing them within the "headers" folder in the modmat theme directory and selecting it via the options menu.
Ive even thrown in a "random image" option. Selecting this will select an image at random from the headers folder (so dont put any images in there that you don't want people to see!!).
You can also change the background in the same way, by placing the image in the "backgrounds" folder and selecting it from the options page. From here, you can also set how you want the background image to tile and scroll, and change the background colour.
The theme supports the gravatar and flickrrss plugins out of the box, and should display many others without a problem. The sidebar is the right size for a Google Adsense block, should you want to add one. The ideal colours to use would be #252526 as the background, and #B1A7FF for urls to fit it in with the colour scheme.
The site has been tested and is fully xHTML 1.0 and CSS 2.0 compliant, and should display pretty much spot on in IE 5.5+, Firefox 1.0+, Opera, Safari, Konquerer, Epithany, Galeon and more.
If you have any feedback, comments or requests for styling for specific plugins, either leave a comment below or drop me an email. Seriously, I love email. 😀
As before, this theme is released on a GPL so change and tweak it to your hearts content. The only link back to my site is in the footer, and as much as I'd appreciate it if you could leave it to help others find my work, you're more than welcome to remove it.
You can preview the theme here
(The preview is in 775px mode with the default header. To test the other modes, download and give it a try!)
Enjoy!
Changelog
1.0.1 – Fixed error with hard coded value in the "randomizer" function. Tidied up header tags.
1.0.2 – Fixed error in pingback/trackback list.
1.0.3 – Fixed inconsistency with sidebar header sizes.
1.0.4 – Added Gravatar support, fixed some spacing issues.
1.1 – Support for threaded comments, comment replies, sticky posts, changeable background images/colours.
1.1.1 – Legacy comments fix
1.1.2 – IE8 Fix
Donation?
All my plugins/themes I've designed/built and provided on this site are free of charge, but the one cost that I can't recoup is the time I put in – not just the design time… but I'm a firm believer that you should be willing to support what you release, and as such I reply to all emails and comments I receive, and generally try and help people get the best out my code.
So if you feel like giving me the warm, fuzzy feeling of knowing someone cares, why not donate a couple of $/£ ? Its not mandatory in any way, but I guarantee it'll put a smile on my face 😉