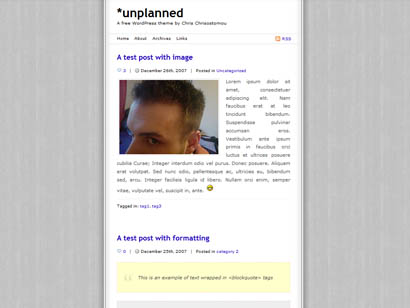 You can preview *unplanned here
I'm very pleased to announce the release of my first ever public WordPress theme – *unplanned. This was the spawn of a free afternoon a few weeks ago, and was pretty much "unplanned" throughout the first 90% of development (hence the inspiration for the name!). 😀
Unfortunately, I stretched the next 10% over the last 3 weeks (give me a chance, Ive just started a new job). The theme is now tweaked, optimized and ready for release! (although admittedly perhaps still a little rough around the edges – drop me a line if you run into any problems)
*unplanned is a lightweight, minimalist, 1 column, widget ready theme based on Sandbox – which "technically" makes it beautiful on the inside and the outside. Not bad for free eh? Also a few code sprinkles from k2. The theme should be fully xHTML and CSS 2.0 compliant and is tested to ensure compatibility across every browser I could find to test on – IE6 & 7, Firefox, Opera, Safari, Konqueror, Epithany and more.
*unplanned is also compatible with a number of popular plugins – FlickrRSS and Gravatar are two I can definitely vouch for – but as my first plugin, I haven't had a chance to fully gauge what plugins people use. If you have any requests for adding support for any plugins, let me know either by leaving me a comment or drop me an email. Seriously, I want to know what you use!! Plus any general feedback would be gratefully appreciated 😉
I'm releasing this theme under a GPL and you have my guarantee there are no sponsored links or other nasty bits attached -unless you count the link back to my site nasty! I'd appreciate it if you could leave it in the footer, but you're welcome to remove it if you think it'll look better without.
Any updates/bug fixes will be posted on this page, so if you've requested styling for a specific plugin or whatever, check back here!
Preview can be found here
Enjoy!