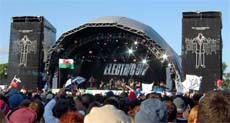 Ive collated a full list of all the artists playing at Glastonbury 2007, based on the list on the official website.
The list is in alphabetical order, with dates and stages alongside. Ive just been finding this list a lot easier to use when someone at work says "Oooh, are [insert band name here] playing at Glasto this year??".
So yeah, enjoy. And hopfully you'll get as much as use out of this as me! I'll probably follow this up with a Glastonbury "cinema field" listing shortly…
P.S., this all started off as an Excel spreadsheet, so if anyone wants a copy drop me an email and I'll forward it on. If you're thinking of doing your own then trust me, this'll save you a few minutes!!
P.P.S., I left out some of the much smaller stages – ie, the Poetry stage. If anyone has any real want/need for the info, let me know. 😉
** Update – I didn't realise it'd be so popular! So if you're still after a copy, you can download the spreadsheet here.
Artist
Date
Stage
!!!
Friday 22nd
The Dance Village East
!!! (chk chk chk)
Saturday 23rd
Glade Stage
3 Daft Monkeys
Saturday 23rd
Avalon Stage
3 Daft Monkeys
Thursday 21st
Left Field – Stage 1
4D
Saturday 23rd
ID Spiral
A Guy Called Gerald
Friday 22nd
The Dance Village West
Acoustic Collective
Saturday 23rd
Avalon Cafe Stage
Acoustic Collective
Sunday 24th
Avalon Cafe Stage
Adam F
Saturday 23rd
G Stage
Adam Freeland
Friday 22nd
G Stage
Adele
Sunday 24th
The Park Stage
Adem
Sunday 24th
The Park Stage
Adjegas
Friday 22nd
Pyramid Stage
Africa Express
Saturday 23rd
The Park Stage
African Skies
Sunday 24th
Left Field – Stage 2
AIM
Friday 22nd
JazzWorld Stage
Akala
Saturday 23rd
Left Field – Stage 1
Al O'Kane
Sunday 24th
Avalon Cafe Stage
Alamo Leal
Saturday 23rd
Avalon Cafe Stage
Alexanderope
Friday 22nd
Lost Vagueness
Aliens
Friday 22nd
The Park Stage
Aliji
Friday 22nd
ID Spiral
Allaby
Sunday 24th
G Stage
Alloy Mental
Friday 22nd
The Dance Village West
Almeida Girl and Le grand
Descarga
Friday 22nd
Croissant Neuf Stage
Amp Fiddler
Sunday 24th
JazzWorld Stage
Amy Macdonald
Friday 22nd
The Park Stage
Amy Winehouse
Friday 22nd
Pyramid Stage
Amy Winehouse
Friday 22nd
JazzWorld Stage
Andy Barlow (Lamb)
Thursday 21st
Lounge
Andy C
Saturday 23rd
G Stage
Andy Cato
Saturday 23rd
Lounge
Annie Mac
Saturday 23rd
Lounge
Annie Nightingale's Dance
Village Launch Party
Thursday 21st
Lounge
Another World is Possible!
Sunday 24th
Left Field – Stage 1
Anti Slavery Vox DJ
Thursday 21st
Left Field – Stage 2
Aqualung
Sunday 24th
John Peel Stage
Arcade Fire
Friday 22nd
Other Stage
Arctic Monkeys
Friday 22nd
Pyramid Stage
Argument About Yellow Cats
& Cats & Cats & Cats
Saturday 23rd
Babylon Bandstand
Arthur Shearlaw
Friday 22nd
Stonebridge Bar (in The Park)
Ash
Friday 22nd
Babylon Bandstand
Asian Dub Foundation Sound
System
Friday 22nd
Roots
Atomic Hooligan & Jay
Cunning
Friday 22nd
G Stage
Aural Imbalance
Saturday 23rd
G Stage
Avalonian Free State Choir
Sunday 24th
Avalon Stage
Babel
Saturday 23rd
Babylon Bandstand
Babyhead
Sunday 24th
JazzWorld Stage
Babyshambles
Saturday 23rd
Other Stage
Back to the Planet
Friday 22nd
Left Field – Stage 1
Bad Science
Friday 22nd
Croissant Neuf Stage
Bag of Rats
Sunday 24th
Avalon Cafe Stage
Baggy Mondays
Thursday 21st
Stonebridge Bar (in The Park)
Baggy Mondays
Sunday 24th
Stonebridge Bar (in The Park)
Baka Beyond and The G�Bine
Sunday 24th
Croissant Neuf Stage
Bandish Projekt
Friday 22nd
Roots
Bat for Lashes
Saturday 23rd
John Peel Stage
Beans on Toast
Thursday 21st
Left Field – Stage 1
Beans on Toast
Saturday 23rd
Left Field – Stage 2
Beardy
Sunday 24th
G Stage
Bees Knees
Sunday 24th
Lost Vagueness
Bees Knees
Sunday 24th
Lost Vagueness
Beirut
Sunday 24th
JazzWorld Stage
Bellevue
Friday 22nd
Avalon Cafe Stage
Bellowhead
Sunday 24th
Avalon Stage
Ben & Lex
Friday 22nd
G Stage
Ben Swank (Fitzrovian
Phonographic)
Sunday 24th
Stonebridge Bar (in The Park)
Ben Waters Band
Friday 22nd
Avalon Stage
Ben Westbeech
Sunday 24th
Lounge
Benjamin and the Sirens
Thursday 21st
Avalon Cafe Stage
Beyond The Wizard�s Sleeve
(Richard Norris and Erol Alkan)
Saturday 23rd
Stonebridge Bar (in The Park)
Bible Code Sundays
Friday 22nd
Avalon Cafe Stage
Biffy Clyro
Saturday 23rd
Other Stage
Big Strides
Saturday 23rd
Avalon Stage
Big Strides
Thursday 21st
Avalon Cafe Stage
Biggles
Friday 22nd
Babylon Bandstand
Biggles Wartime Band
Sunday 24th
Croissant Neuf Stage
Bill Smarme
Friday 22nd
Babylon Bandstand
Billy Bragg
Sunday 24th
Avalon Stage
Billy Bragg & Guests
Sunday 24th
Left Field – Stage 1
Bimbo Jones
Saturday 23rd
Lounge
Bison
Saturday 23rd
Lost Vagueness
Bitesize
Sunday 24th
The Dance Village West
Bjork
Friday 22nd
Other Stage
Black Ghosts
Saturday 23rd
The Dance Village East
Bloc Party
Friday 22nd
Pyramid Stage
Blue Bullet
Saturday 23rd
John Peel Stage
Bobby Friction (BBC Asian
Network)
Friday 22nd
Roots
Bobby Kray & Dennis
Bovell
Saturday 23rd
Roots
Bonde Do Role
Saturday 23rd
Lounge
Bong Ra
Saturday 23rd
G Stage
Bourbon Warfare DJs
Friday 22nd
Pussy Parlure
Boy Le Monti
Sunday 24th
Avalon Cafe Stage
Brakes
Saturday 23rd
Other Stage
Brakes (acoustic)
Saturday 23rd
Left Field – Stage 2
Breakfast With Howard Marks
Saturday 23rd
The Dance Village West
Breaking the Illusion
Friday 22nd
Lounge
Bright Eyes
Friday 22nd
Other Stage
Broader Than Broadway And
Bobby Champagne Jr
Saturday 23rd
Stonebridge Bar (in The Park)
Broader Than Broadway
Soundsystem
Sunday 24th
Stonebridge Bar (in The Park)
Bugz In The Attic
Sunday 24th
Lounge
Buraka Som Sistema
Friday 22nd
The Dance Village East
Buraka Som Sistema
Friday 22nd
Glade Stage
Butch Cassidy�s Reggae Pop
Show
Saturday 23rd
Stonebridge Bar (in The Park)
Butch Cassidy�s Reggae Pop
Show
Sunday 24th
Stonebridge Bar (in The Park)
Cagedbaby
Friday 22nd
The Dance Village East
Cajun Dance Party
Friday 22nd
The Park Stage
Cakeboy & Doublethink
Thursday 21st
Lounge
Calvin Harris
Saturday 23rd
John Peel Stage
Carl Cox
Sunday 24th
The Dance Village East
Carnival Collective
Sunday 24th
Left Field – Stage 1
Catch 22
Friday 22nd
Roots
Catherine Feeny
Saturday 23rd
Acoustic Stage
Cats & Cats & Cats
& Cats
Sunday 24th
Babylon Bandstand
CCQ
Friday 22nd
Glade Stage
Charlene Jones
Thursday 21st
Left Field – Stage 2
Charlotte Hatherly
Friday 22nd
The Park Stage
Chas 'n' Dave
Friday 22nd
The Park Stage
Cherry Ghost
Saturday 23rd
The Park Stage
Chesstar
Sunday 24th
ID Spiral
Chimanimani
Friday 22nd
Avalon Cafe Stage
Chimanimani
Friday 22nd
Glade Stage
Chris Jagger's acoustic band
Saturday 23rd
Avalon Cafe Stage
Chumbawamba acoustic
Friday 22nd
Avalon Stage
Cicada – Live
Saturday 23rd
Lounge
Circulus
Sunday 24th
The Park Stage
Circus Star Cabaret
Friday 22nd
Pussy Parlure
Circus Star Cabaret
Saturday 23rd
Pussy Parlure
Clive Craske
Friday 22nd
Glade Stage
Coldcut
Sunday 24th
The Dance Village West
Coldwar Kids
Sunday 24th
Other Stage
Comedy with: Mark Steel, Nick
Wilty, Steve Gribben and MC Rosie Wilbey
Saturday 23rd
Left Field – Stage 1
Corb Lund
Sunday 24th
Pyramid Stage
Corb Lund & The Hurtin'
Albertans
Sunday 24th
Avalon Stage
Corinne Bailey Rae
Sunday 24th
JazzWorld Stage
Cortina Deluxx
Friday 22nd
Babylon Bandstand
Cosmo
Saturday 23rd
ID Spiral
Cous Cous Torture Company
Sunday 24th
Lost Vagueness
Cous-cous Torture Company
Friday 22nd
Lost Vagueness
Crazy P
Sunday 24th
The Dance Village West
CSS
Saturday 23rd
Other Stage
Ctrl Z
Thursday 21st
Lounge
CUD
Friday 22nd
Left Field – Stage 1
D. Rameriz
Friday 22nd
G Stage
Daddy G
Saturday 23rd
Roots
Daisy Sweet Hearts
Friday 22nd
Left Field – Stage 2
Dame Shirley Bassey
Sunday 24th
Pyramid Stage
Damian Marley
Friday 22nd
JazzWorld Stage
Damien Dempsey
Thursday 21st
Left Field – Stage 1
Damien Rice
Friday 22nd
Acoustic Stage
Dan Donnelly
Thursday 21st
Left Field – Stage 2
Dan Donnelly
Saturday 23rd
Left Field – Stage 2
Dan Donnelly
Sunday 24th
Left Field – Stage 2
Dan Le Sac vs Scroobius Pip
Sunday 24th
Lounge
Dan Spencer
Saturday 23rd
ID Spiral
Danny Howells
Friday 22nd
The Dance Village West
Dave Clarke
Sunday 24th
The Dance Village East
David Saw
Sunday 24th
Acoustic Stage
Destroyers
Sunday 24th
Pussy Parlure
Detectives of Perspective
Friday 22nd
Pussy Parlure
Deviant Aerial
Sunday 24th
Lost Vagueness
Devils Gun
Saturday 23rd
The Dance Village East
Dhol Academy
Friday 22nd
Roots
Die & Clipz
Saturday 23rd
Lounge
Dirty Pretty Things
Saturday 23rd
Pyramid Stage
Disc�pulos de Otilia
Friday 22nd
Pussy Parlure
Discipulos de Otilla
Friday 22nd
Left Field – Stage 1
Disco Ensemble
Friday 22nd
John Peel Stage
Dive
Thursday 21st
Lounge
Divine Company
Friday 22nd
Lost Vagueness
Divine Company
Sunday 24th
Lost Vagueness
DJ
Thursday 21st
Left Field – Stage 2
DJ
Thursday 21st
Left Field – Stage 2
DJ
Saturday 23rd
Left Field – Stage 2
DJ
Sunday 24th
Left Field – Stage 2
DJ (Black Rats)
Friday 22nd
Left Field – Stage 2
DJ (Goldierocks)
Friday 22nd
Left Field – Stage 2
DJ (Huw Stephens)
Friday 22nd
Left Field – Stage 2
DJ Andromeda
Sunday 24th
Glade Stage
DJ Andy Wetherall
Saturday 23rd
Lost Vagueness
DJ Badly
Thursday 21st
Pussy Parlure
DJ Bollox and DJ Drew
Friday 22nd
Lost Vagueness
DJ Bollox and DJ Drew
Friday 22nd
Lost Vagueness
DJ Desert Ivan Discs
Friday 22nd
Lost Vagueness
DJ Finn
Sunday 24th
Lounge
DJ Forty Thieves
Sunday 24th
Pussy Parlure
DJ Hal
Saturday 23rd
The Dance Village West
DJ Lorne Sophie Mike
Sunday 24th
Lost Vagueness
DJ Lorngerie
Friday 22nd
Lost Vagueness
DJ Lorngerie
Saturday 23rd
Lost Vagueness
DJ Lorngerie and Sophie Toes
Sunday 24th
Lost Vagueness
DJ Lorngerie and Sophie Toes
Sunday 24th
Lost Vagueness
DJ Marsh Mellow Mike
Saturday 23rd
Lost Vagueness
DJ Marsh Mellow Mike
Saturday 23rd
Lost Vagueness
DJ Marsh Mellow Mike
Sunday 24th
Lost Vagueness
DJ Monkey Pilot
Sunday 24th
The Dance Village West
DJ Phil Jupitus
Sunday 24th
Left Field – Stage 1
DJ Phil Jupitus
Sunday 24th
Left Field – Stage 1
DJ Sophie Toes
Saturday 23rd
Lost Vagueness
DJ Sophie Toes
Saturday 23rd
Lost Vagueness
DJ Sophie Toes
Sunday 24th
Lost Vagueness
DJ Sophie Toes, Lorne
Friday 22nd
Lost Vagueness
DJ Tofowski
Sunday 24th
Pussy Parlure
DJ Zorro
Saturday 23rd
Pussy Parlure
Doctor D
Saturday 23rd
Glade Stage
Dog House Skiffle Band
Saturday 23rd
Avalon Cafe Stage
Dom Spiral
Thursday 21st
ID Spiral
Don Letts
Thursday 21st
Left Field – Stage 2
Don Letts & Dub Cartel
Thursday 21st
Left Field – Stage 1
Dr Meaker
Saturday 23rd
Pussy Parlure
Dragonette
Sunday 24th
The Dance Village East
Dreadzone
Sunday 24th
The Dance Village West
Dreadzone
Saturday 23rd
Glade Stage
Dream State Circus
Saturday 23rd
Lost Vagueness
Dreamstate Circus
Friday 22nd
Lost Vagueness
Drum Workshop / Carnival
Collective
Friday 22nd
Left Field – Stage 1
Dub From Atlantis
Saturday 23rd
Roots
Dub Pistols
Sunday 24th
Lounge
Dubblehead
Thursday 21st
Croissant Neuf Stage
Dubdadda
Saturday 23rd
Roots
Dubrovnik
Saturday 23rd
Roots
Duke Special
Friday 22nd
Left Field – Stage 2
Dumb Blonde
Friday 22nd
G Stage
Dusty Sprinkles and the Hot
Jazz Biscuits
Friday 22nd
Lost Vagueness
Dynamo Rhythm Ace
Friday 22nd
Lost Vagueness
Eatstatic
Friday 22nd
The Dance Village West
Eatstatic
Sunday 24th
Glade Stage
Echo
Saturday 23rd
Glade Stage
Echo
Saturday 23rd
Croissant Neuf Stage
Ed Byrne
Sunday 24th
Left Field – Stage 1
Ed Harcourt
Saturday 23rd
The Park Stage
Editors
Saturday 23rd
Other Stage
El Presidente
Saturday 23rd
Other Stage
Electric Bill
Friday 22nd
Babylon Bandstand
Elektrons
Sunday 24th
The Dance Village East
Elestial
Friday 22nd
ID Spiral
Emily Barker & The Red
Clay Halo
Sunday 24th
Avalon Stage
Emmy the Great
Friday 22nd
Acoustic Stage
Emmy the Great
Thursday 21st
Left Field – Stage 2
Emporium featuring Bingo
Karaoke
Saturday 23rd
Pussy Parlure
Emporium featuring Bingo
Karaoke
Sunday 24th
Pussy Parlure
Empress Stah
Friday 22nd
Lost Vagueness
Empress Stah
Friday 22nd
Lost Vagueness
Empress Stah
Sunday 24th
Lost Vagueness
Empress Stah
Sunday 24th
Lost Vagueness
Environmental Campaign Film
Sunday 24th
Left Field – Stage 1
Eric Bibb
Saturday 23rd
Acoustic Stage
Eric Faulkner (Bay City
Rollers)
Sunday 24th
Left Field – Stage 1
Erol Alkan
Saturday 23rd
Lounge
Euros Childes
Sunday 24th
The Park Stage
F**k Me USA
Saturday 23rd
G Stage
F.O.S. Brothers
Sunday 24th
Croissant Neuf Stage
Fat Boy Slim
Friday 22nd
The Dance Village East
Fat Freddys Drop
Sunday 24th
JazzWorld Stage
Fat Freddy's Drop
Saturday 23rd
Roots
Fear of Music
Friday 22nd
John Peel Stage
Feluka
Sunday 24th
JazzWorld Stage
Film
Thursday 21st
ID Spiral
Film
Thursday 21st
ID Spiral
Film
Friday 22nd
ID Spiral
Film
Sunday 24th
ID Spiral
Film
Sunday 24th
Left Field – Stage 1
Film � Glastonbury Gap Year
Friday 22nd
Left Field – Stage 1
Filthy Dukes
Saturday 23rd
Lounge
Fionn Regan
Sunday 24th
The Park Stage
Fionn Regan
Friday 22nd
Left Field – Stage 2
Flipron
Friday 22nd
Avalon Stage
Flynn & Flora
Friday 22nd
Roots
Foreign Beggers
Sunday 24th
Roots
Fortune Drive
Thursday 21st
Left Field – Stage 2
Forty Thieves Orkestar
Saturday 23rd
JazzWorld Stage
Forty Thieves Orkestar
Sunday 24th
Pussy Parlure
Four Tet
Friday 22nd
Lounge
Four Tet with Eat Your Own
Ears DJs
Saturday 23rd
Stonebridge Bar (in The Park)
Fred & Benny
Friday 22nd
Left Field – Stage 2
Freq Nasty
Saturday 23rd
G Stage
Future Funk Squad
Sunday 24th
The Dance Village West
Gabriadelic
Friday 22nd
ID Spiral
Gandolfi
Sunday 24th
ID Spiral
Ganga Giri
Saturday 23rd
JazzWorld Stage
Ganga Giri
Sunday 24th
Glade Stage
Gaudi
Sunday 24th
G Stage
Gaudi
Sunday 24th
ID Spiral
Gear
Thursday 21st
Left Field – Stage 1
General Midi & MC Jakes
Friday 22nd
G Stage
George Monbiot (campaigner
and Guardian journalist)
Sunday 24th
Left Field – Stage 1
Gerry�s Joint
Thursday 21st
Stonebridge Bar (in The Park)
Get Cape incl PlanB
Saturday 23rd
Left Field – Stage 1
Get Cape Wear Cape Fly
Sunday 24th
Other Stage
Get Cape Wear Cape Fly
Sunday 24th
Left Field – Stage 1
Get Cape Wearcape Fly
Saturday 23rd
John Peel Stage
Get Involved
Friday 22nd
Stonebridge Bar (in The Park)
Get Up Stand Up � No to
Trident!
Sunday 24th
Left Field – Stage 1
Get Well Soon
Saturday 23rd
The Park Stage
Gettin Better Sound System
Sunday 24th
Roots
Ghost
Friday 22nd
Lounge
Gipsy.CZ
Sunday 24th
Pussy Parlure
Glen Tilbrook
Friday 22nd
Left Field – Stage 2
Glenn Tilbrook
Sunday 24th
Left Field – Stage 1
Glistening Cogs of Greenland
The Volt
Saturday 23rd
Babylon Bandstand
GMB Present: Up the Poles!
Left Field campaign for migrant workers union
rights
Saturday 23rd
Left Field – Stage 1
Gogol Bordello
Friday 22nd
Pyramid Stage
Goldblade
Sunday 24th
Left Field – Stage 1
Good Shoes
Friday 22nd
John Peel Stage
Grainne
Saturday 23rd
Lost Vagueness
Green Angels
Friday 22nd
Avalon Cafe Stage
Greg Dread and Spee
Sunday 24th
Glade Stage
Grim Northern Social
Saturday 23rd
John Peel Stage
Gringo Ska
Friday 22nd
Avalon Cafe Stage
Grrrlesque
Friday 22nd
Lost Vagueness
Grrrlesque
Friday 22nd
Lost Vagueness
Gruff Rhys
Sunday 24th
The Park Stage
Gruff Rhys
Saturday 23rd
Avalon Stage
Guillemots
Saturday 23rd
Pyramid Stage
Guillemots
Saturday 23rd
JazzWorld Stage
Guilty Pleasures
Thursday 21st
Stonebridge Bar (in The Park)
Guilty Pleasures Featuring
The Tor Dogs & Special Guests
Friday 22nd
JazzWorld Stage
Gus Gus
Friday 22nd
JazzWorld Stage
Gus Gus
Friday 22nd
The Dance Village East
Guto (Super Furry Animals
/Trojan Records)
Saturday 23rd
Stonebridge Bar (in The Park)
Guy called Gerald (SUGOI)
Sunday 24th
ID Spiral
Habakuk
Saturday 23rd
Left Field – Stage 1
Hadar
Friday 22nd
ID Spiral
Hafdis Huld
Friday 22nd
Lounge
Hayley Hutchinson
Saturday 23rd
Acoustic Stage
Healer Selecta
Friday 22nd
Pussy Parlure
Healer Selecta
Friday 22nd
Pussy Parlure
Hearin' Aid
Sunday 24th
Roots
Hearin' Aid
Friday 22nd
Lounge
Heavenly jukebox
Sunday 24th
Stonebridge Bar (in The Park)
Hedge Monkey
Sunday 24th
Glade Stage
Helen Boulding and Tom Pi
Friday 22nd
Avalon Cafe Stage
Hexstatic
Friday 22nd
Lounge
Hip Hop Karaoke
Saturday 23rd
Stonebridge Bar (in The Park)
Hiromi's Sonicbloom
Saturday 23rd
JazzWorld Stage
Hodmadoddery
Thursday 21st
Babylon Bandstand
Hold Steady
Friday 22nd
John Peel Stage
Holy Fuck
Saturday 23rd
John Peel Stage
Holy Fuck
Thursday 21st
Left Field – Stage 2
Hot Chip
Friday 22nd
John Peel Stage
Hothouse Flowers
Friday 22nd
Acoustic Stage
Hummingbirds
Sunday 24th
Acoustic Stage
Husky Rescue
Saturday 23rd
Lounge
Husky Rescue
Sunday 24th
Glade Stage
Hybrid
Saturday 23rd
The Dance Village West
Hybrid
Thursday 21st
Lounge
Hydrophonic
Sunday 24th
G Stage
Hyper
Friday 22nd
The Dance Village East
Iain Ballamy
Friday 22nd
Glade Stage
Iain Dub vs Addsineon
Friday 22nd
ID Spiral
Iggy And The Stooges
Saturday 23rd
Other Stage
I'm With Stupid
Friday 22nd
Stonebridge Bar (in The Park)
Infadels
Saturday 23rd
The Dance Village East
Infinite Scale
Sunday 24th
Lounge
Iration Steppas
Saturday 23rd
Roots
It's Bigger Than
Friday 22nd
Roots
It's Bigger Than
Sunday 24th
Lounge
J Mountain
Sunday 24th
Lounge
Jack L
Friday 22nd
Acoustic Stage
Jack Penate
Friday 22nd
John Peel Stage
Jack Penate
Friday 22nd
Left Field – Stage 2
Jail Guitar Doors � the
campaign to give instruments to prisoners in
memory of Joe Strummer
Sunday 24th
Left Field – Stage 1
James Gill
Friday 22nd
The Dance Village West
James Lavelle
Friday 22nd
Lounge
James Morrison
Sunday 24th
Pyramid Stage
Jamie Cato (1 Giant Leap)
Saturday 23rd
Glade Stage
Jamie T
Sunday 24th
John Peel Stage
Jeff Lang
Sunday 24th
Avalon Stage
Jeremy Smoking Jacket The
Mighty Peas
Saturday 23rd
Babylon Bandstand
Jerona Fruits
Friday 22nd
Roots
Jersey Budd
Friday 22nd
Left Field – Stage 2
Jim Bob (CUSM)
Friday 22nd
Left Field – Stage 2
Jim Masters
Friday 22nd
The Dance Village West
Joe and Nicky�s Sweet Charity
Friday 22nd
Stonebridge Bar (in The Park)
Joe Driscoll
Friday 22nd
Left Field – Stage 2
Joe Public SJ Esau
Saturday 23rd
Babylon Bandstand
John E Vistic
Friday 22nd
Babylon Bandstand
John Fogerty
Saturday 23rd
JazzWorld Stage
Jose Luis
Saturday 23rd
Pussy Parlure
Josh Pyke
Saturday 23rd
The Park Stage
Julie Fowlis
Saturday 23rd
Avalon Stage
Jungle Drummer DJ Fu and
Rodney P
Saturday 23rd
G Stage
Just Jack
Sunday 24th
John Peel Stage
K`Naan
Saturday 23rd
JazzWorld Stage
Kaiser Chiefs
Sunday 24th
Pyramid Stage
Kangaroon Moon
Saturday 23rd
Croissant Neuf Stage
Kasabian
Friday 22nd
Pyramid Stage
Kate Nash
Friday 22nd
The Park Stage
Kava Kava
Friday 22nd
The Dance Village West
Kenji Williams
Saturday 23rd
The Dance Village West
Kenji Williams
Friday 22nd
Glade Stage
Kharma 45
Sunday 24th
Other Stage
Kid Harpoon
Thursday 21st
Left Field – Stage 1
Kid Harpoon (ac)
Friday 22nd
Left Field – Stage 2
K�la
Sunday 24th
Avalon Stage
King Blues
Thursday 21st
Left Field – Stage 1
King Blues
Saturday 23rd
Left Field – Stage 2
King Creosote
Sunday 24th
The Park Stage
Kissy Sellout
Sunday 24th
The Dance Village East
Kitty Bang Bang
Saturday 23rd
Lost Vagueness
Kitty Bang Bang
Sunday 24th
Lost Vagueness
Kitty, Daisy & Lewis
Sunday 24th
Pussy Parlure
Klashnekoff
Sunday 24th
Roots
Klaxons
Saturday 23rd
Other Stage
K'Naan
Sunday 24th
Roots
Koop
Sunday 24th
JazzWorld Stage
Krafty Kuts
Sunday 24th
The Dance Village West
KT Tunstall
Sunday 24th
Acoustic Stage
La Kinky Beat
Saturday 23rd
Pussy Parlure
La Kinky Beat
Sunday 24th
Glade Stage
Lana
Thursday 21st
Avalon Cafe Stage
Lana
Sunday 24th
Avalon Cafe Stage
LATIN AMERICAN FIESTA
Friday 22nd
Left Field – Stage 1
LATIN AMERICAN FIESTA
Friday 22nd
Left Field – Stage 2
Latin American Resistance �
Panel discussion with Bob Crow, RMT, Carlos
Lozarro (Columbian Journalist and death squad survivor), Brendan Barber (TUC)
and Hugh Lanning (PCS)
Friday 22nd
Left Field – Stage 1
Laura Marling
Sunday 24th
The Park Stage
LaXula
Friday 22nd
Babylon Bandstand
Left Field Anti-Slavery
Night: With Unite Against Facism & SWTUC
(hosted by Don Letts & Dub Cartel)
Thursday 21st
Left Field – Stage 1
Left Field Anti-Slavery
Night: With Unite Against Facism & SWTUC
(hosted by Don Letts & Dub Cartel)
Thursday 21st
Left Field – Stage 2
Leon Jean-Marie
Friday 22nd
Pussy Parlure
Lethal Bizzle
Saturday 23rd
Left Field – Stage 1
Liam O�Maonlai
Saturday 23rd
Acoustic Stage
Lily Allen
Saturday 23rd
Pyramid Stage
Liquid Djems
Saturday 23rd
ID Spiral
Liquid Ross
Saturday 23rd
ID Spiral
Lisa Hannigan
Friday 22nd
Acoustic Stage
Little Barrie
Friday 22nd
Lounge
Liz Green
Saturday 23rd
Pyramid Stage
Liz Green
Saturday 23rd
Acoustic Stage
Liz Green
Thursday 21st
Left Field – Stage 2
LMHR discussion with tonights
artists and Derek Simpson (AMICUS)
Saturday 23rd
Left Field – Stage 1
London Community Gospel Choir
Sunday 24th
Acoustic Stage
Look See Proof
Friday 22nd
John Peel Stage
Los Albertos
Friday 22nd
Avalon Cafe Stage
Los Albertos
Saturday 23rd
Babylon Bandstand
Los Campesionos!
Friday 22nd
The Park Stage
Lou Rhodes
Saturday 23rd
The Park Stage
Love Music Hate Racism
presents:
Saturday 23rd
Left Field – Stage 1
Luna Lis
Sunday 24th
ID Spiral
Luxury Condo
Saturday 23rd
Lost Vagueness
M.I.A.
Friday 22nd
The Park Stage
Maccabees
Friday 22nd
John Peel Stage
Mad Professor
Saturday 23rd
Roots
Mahala Rai Banda – Electric
Gypsyland
Sunday 24th
JazzWorld Stage
Manic Street Preachers
Sunday 24th
Pyramid Stage
Mankala
Friday 22nd
Croissant Neuf Stage
Marc Vedo
Friday 22nd
The Dance Village West
Marcus Brigstocke
Sunday 24th
Left Field – Stage 1
Mark Edwards Hard Rain
Environmental Show
Friday 22nd
Glade Stage
Mark Mandala
Friday 22nd
ID Spiral
Mark Ronson
Sunday 24th
John Peel Stage
Mark Ronson
Saturday 23rd
The Dance Village East
Mark Thomas
Sunday 24th
Left Field – Stage 1
Marley Brothers Present The
30th Anniversary Of Exodus
Sunday 24th
Pyramid Stage
Martha and Arthur
Saturday 23rd
Lost Vagueness
Martha and Atthur
Sunday 24th
Lost Vagueness
Martha Tilston
Friday 22nd
Acoustic Stage
Martha Wainwright
Friday 22nd
The Park Stage
Mat Fraser
Saturday 23rd
Lost Vagueness
Matt Black
Saturday 23rd
ID Spiral
Max Pashm
Thursday 21st
Babylon Bandstand
Max Sedgley
Friday 22nd
The Dance Village East
Maximo Park
Saturday 23rd
Other Stage
Mayra
Thursday 21st
ID Spiral
MC Dave Chameleon
Sunday 24th
Lost Vagueness
MC Dougie Invisible
Friday 22nd
Lost Vagueness
MC Mat Fraser
Saturday 23rd
Lost Vagueness
Meat Katie and VJ Anyone
Saturday 23rd
The Dance Village West
Men in Masks
Friday 22nd
Lounge
Merlinski Spacelee
Friday 22nd
Lost Vagueness
Merlinski Spacelee
Saturday 23rd
Lost Vagueness
Micah P Hinson
Sunday 24th
The Park Stage
Michael J Sheehy
Friday 22nd
Babylon Bandstand
Midival Punditz
Friday 22nd
Roots
Midival Punditz feat. Karsh
Kale & special guests
Friday 22nd
JazzWorld Stage
Mik Artistik
Friday 22nd
Avalon Cafe Stage
Mika
Sunday 24th
Other Stage
Mika
Saturday 23rd
The Dance Village East
Mike Scott and Steve
Wickham/The Waterboys
Friday 22nd
Avalon Stage
Mirror System
Friday 22nd
ID Spiral
Modest Mouse
Friday 22nd
Other Stage
Movimientos
Friday 22nd
Left Field – Stage 1
Movimientos
Friday 22nd
Left Field – Stage 2
Movimientos
Saturday 23rd
Left Field – Stage 2
Moya Brennan
Sunday 24th
Acoustic Stage
Mr Bojangles Moustache
Saturday 23rd
Glade Stage
Mr C
Saturday 23rd
The Dance Village West
Mr Hudson And The Library
Friday 22nd
Other Stage
Mr Hudson and the Library
Saturday 23rd
JazzWorld Stage
Mr M
Saturday 23rd
Pussy Parlure
Mr Nice
Saturday 23rd
G Stage
Mr Scruff
Saturday 23rd
The Dance Village East
Mrung
Friday 22nd
ID Spiral
Mudra
Sunday 24th
ID Spiral
Mum Ra
Friday 22nd
John Peel Stage
Naked Nick
Sunday 24th
ID Spiral
Nasio Fontaine
Friday 22nd
JazzWorld Stage
Nasio Fontaine
Saturday 23rd
Roots
National Youth Orchestra
Sunday 24th
Pyramid Stage
Natty
Saturday 23rd
Left Field – Stage 1
Neck
Thursday 21st
Left Field – Stage 1
Neck
Sunday 24th
Left Field – Stage 2
Neds Atomic Dustbin
Friday 22nd
Left Field – Stage 1
Nerm
Friday 22nd
Roots
Neville Staples (from The
Specials)
Sunday 24th
Left Field – Stage 1
Newton Faulkner
Friday 22nd
Acoustic Stage
Nick Lowe
Saturday 23rd
Acoustic Stage
Nick Warren
Saturday 23rd
Glade Stage
Niece & Unc
Thursday 21st
Pussy Parlure
Nigel Mazyln Jones
Saturday 23rd
Glade Stage
Night of Treason
Sunday 24th
Left Field – Stage 2
NIZLOPI
Saturday 23rd
Croissant Neuf Stage
Nizlopi
Thursday 21st
Left Field – Stage 2
No Lay
Saturday 23rd
Left Field – Stage 1
Noisettes
Sunday 24th
John Peel Stage
Noisia
Saturday 23rd
G Stage
Oi Va Voi
Friday 22nd
Avalon Stage
Oojami Live
Friday 22nd
Pussy Parlure
Open Mic
Thursday 21st
Left Field – Stage 2
Open Mic
Friday 22nd
Left Field – Stage 2
Open Mic (Shelter)
Saturday 23rd
Left Field – Stage 1
Ott
Sunday 24th
G Stage
Ox.Eagle.Lion.Man
Thursday 21st
Left Field – Stage 2
Ozric Tentacles
Saturday 23rd
Glade Stage
P.R.O.D.
Thursday 21st
Pussy Parlure
P.R.O.D.
Saturday 23rd
Pussy Parlure
Pablo Psychonaut
Friday 22nd
Stonebridge Bar (in The Park)
Palladium
Sunday 24th
Lounge
Pama Inernational
Thursday 21st
Left Field – Stage 1
Pama International
Saturday 23rd
The Dance Village West
Paolo Nutini
Saturday 23rd
Pyramid Stage
Para One
Saturday 23rd
Lounge
Paris Motel
Thursday 21st
Babylon Bandstand
Patrick Wolf
Saturday 23rd
John Peel Stage
Patthan
Saturday 23rd
Glade Stage
Patthan
Sunday 24th
Glade Stage
Paul Weller
Saturday 23rd
Pyramid Stage
Paul Zenon
Sunday 24th
Lost Vagueness
Paul Zenon and Sleez
Sunday 24th
Lost Vagueness
Pauline Scanlon
Friday 22nd
Acoustic Stage
Peace 1 world FILM
Saturday 23rd
Left Field – Stage 1
Pee Wee Ellis with James
Morton and The Rawness
Friday 22nd
Glade Stage
Pendulum Live
Sunday 24th
The Dance Village East
Perverted Turkeys
Saturday 23rd
Lost Vagueness
Perverted Turkeys
Sunday 24th
Lost Vagueness
Pete Ardron
Saturday 23rd
ID Spiral
Pete Doherty
Sunday 24th
The Park Stage
Pete Fowler (Monsterism)
Sunday 24th
Stonebridge Bar (in The Park)
Peter & the Wolf
Friday 22nd
The Park Stage
Phil Hartnoll Presents Long
Range
Sunday 24th
The Dance Village West
Phil Kieran
Saturday 23rd
The Dance Village East
Phil King
Sunday 24th
Babylon Bandstand
Pigeon Detectives
Saturday 23rd
John Peel Stage
Piney Gear
Saturday 23rd
The Park Stage
PLATFORM: Youth Protest
Platform with Gemma Turnelty (NUS), UNISON, PCS
and Youth Music
Saturday 23rd
Left Field – Stage 1
Plaza De Funk
Friday 22nd
G Stage
Polichinelle
Sunday 24th
The Dance Village East
Polichinelle
Thursday 21st
Pussy Parlure
POP Quiz
Saturday 23rd
Pussy Parlure
Positively Testcard
Sunday 24th
Left Field – Stage 2
Quantic
Sunday 24th
Lounge
Quest
Friday 22nd
G Stage
Radioactive Man Live
Saturday 23rd
G Stage
Ralph Myerz and The Jack
Herren Band
Friday 22nd
The Dance Village West
Remi Nicole
Friday 22nd
The Park Stage
Rennie Pilgrem & MC
Chickaboo
Friday 22nd
G Stage
Republic of Loose
Friday 22nd
Left Field – Stage 1
Reverend And The Makers
Friday 22nd
Other Stage
Rhoda Dakar
Saturday 23rd
Left Field – Stage 2
Rhythmites
Sunday 24th
Glade Stage
Richard Swift
Sunday 24th
The Park Stage
Richie Havens
Saturday 23rd
Acoustic Stage
Rise Kagona & Champion
Doug Veitch
Sunday 24th
Avalon Stage
Rob Da Bank & MC
Beardyman
Sunday 24th
Lounge
Robin & Bina Williamson
Saturday 23rd
Avalon Stage
Robin and Nick (heavenly
jukebox/The Admiralty Club)
Sunday 24th
Stonebridge Bar (in The Park)
Rod Thomas
Thursday 21st
Avalon Cafe Stage
Rod Thomas
Saturday 23rd
Avalon Cafe Stage
Rodney Branigan
Friday 22nd
Croissant Neuf Stage
Rodney Brannigan
Thursday 21st
Left Field – Stage 2
Rodrigo y Gabriela
Saturday 23rd
JazzWorld Stage
Rose Kemp
Friday 22nd
Babylon Bandstand
Roullet Featuring Queen Bee
& Parker
Sunday 24th
Roots
Ruarri Joseph
Saturday 23rd
Left Field – Stage 1
Rufus Wainwright
Friday 22nd
Other Stage
Rumble Strips
Sunday 24th
John Peel Stage
Russ Jones 'The Hackney
Globetrotter'
Sunday 24th
Pussy Parlure
Ryan Styles
Friday 22nd
Lost Vagueness
Salsa Class with Mo Flex
Saturday 23rd
Pussy Parlure
Sancho Panza
Sunday 24th
Pussy Parlure
Sancho Panza featuring the
Twilight Players
Friday 22nd
Pussy Parlure
Sandi Thom
Friday 22nd
Acoustic Stage
Sandra
Saturday 23rd
ID Spiral
Sargeant
Saturday 23rd
The Park Stage
Sasha
Saturday 23rd
The Dance Village West
Scotch Egg Band (Drumize)
Saturday 23rd
G Stage
Scott Mathews
Sunday 24th
John Peel Stage
Scratchy
Saturday 23rd
Glade Stage
Sean Rowley (rock 'n' roll
set)
Friday 22nd
Stonebridge Bar (in The Park)
Sean Rowley Presents I'm Not
in Love
Saturday 23rd
Pussy Parlure
Sean Rowley's Guily Pleasures
Friday 22nd
Lounge
Sean Taylor
Thursday 21st
Left Field – Stage 2
Seasick Steve
Saturday 23rd
Pyramid Stage
Seasick Steve
Thursday 21st
Left Field – Stage 2
Seize the Day
Saturday 23rd
Croissant Neuf Stage
Sellors and the Scientists
Saturday 23rd
Avalon Cafe Stage
Seth Lakeman
Sunday 24th
JazzWorld Stage
Seth Lakeman
Saturday 23rd
Avalon Stage
Seth Lakeman
Friday 22nd
Glade Stage
Sgt Peppers
Saturday 23rd
Babylon Bandstand
Shazia Mirza
Sunday 24th
Left Field – Stage 1
Sheelanagig
Saturday 23rd
Avalon Stage
Sheik Yarbooty
Thursday 21st
ID Spiral
Shelter and
VirtualFestivals.com present the Left Field night
for Affordable Housing:
Friday 22nd
Left Field – Stage 1
Shitdisco
Sunday 24th
The Dance Village East
Shitmatt
Saturday 23rd
G Stage
Shlomo
Friday 22nd
The Park Stage
Shoot The Moon
Sunday 24th
John Peel Stage
Shorn Rah
Thursday 21st
Babylon Bandstand
Show Of Hands
Friday 22nd
Avalon Stage
Shpongle
Sunday 24th
G Stage
Simian Mobile Disco
Friday 22nd
The Dance Village East
Simon Atkinson & The Ben
Marcato Trio
Friday 22nd
Glade Stage
Simon Pieman
Sunday 24th
ID Spiral
SJ Esau
Sunday 24th
Babylon Bandstand
Slovo
Friday 22nd
Left Field – Stage 1
Smith & Mighty
Saturday 23rd
Roots
Snortin' Dogs
Friday 22nd
Babylon Bandstand
Soil & 'Pimp' Sessions
Saturday 23rd
JazzWorld Stage
Songs of Nick Drake By Keith
James
Sunday 24th
Acoustic Stage
Soothsayers
Sunday 24th
Glade Stage
Soul Jazz Sound System
Saturday 23rd
Stonebridge Bar (in The Park)
Soul of Man
Sunday 24th
Glade Stage
Soul Survivors
Thursday 21st
Left Field – Stage 1
Soulsavers
Friday 22nd
Stonebridge Bar (in The Park)
Soweto Kinch
Friday 22nd
JazzWorld Stage
Soweto Kinch
Sunday 24th
Left Field – Stage 1
Special Guest
Friday 22nd
Pussy Parlure
Spiritualized – Acoustic
Mainline
Friday 22nd
The Park Stage
Squarepusher
Friday 22nd
Glade Stage
Stanton Warriors
Sunday 24th
The Dance Village West
Steve Forbert
Sunday 24th
Acoustic Stage
Steve Hillage (System 7 Dj
set)
Saturday 23rd
Croissant Neuf Stage
Steve Lawler
Sunday 24th
The Dance Village West
Steve Lawler
Thursday 21st
Lounge
Steven Marley with guest
Damian Marley
Saturday 23rd
Roots
Stompin Dave Allen
Friday 22nd
Avalon Cafe Stage
Subgiant
Friday 22nd
The Dance Village West
Subsource
Saturday 23rd
Lounge
Sugadaddy
Saturday 23rd
The Dance Village East
Sumaya
Friday 22nd
Pussy Parlure
Sumaya Flamenco Troupe
Saturday 23rd
Lost Vagueness
Suns Of Mecha
Thursday 21st
Lounge
Sunshine Underground
Sunday 24th
Other Stage
SuparNovar
Sunday 24th
Roots
Super Furry Animals
Friday 22nd
Other Stage
Surgeon A/V Show
Friday 22nd
The Dance Village West
Swami Desi Rock
Friday 22nd
Roots
System 7
Friday 22nd
The Dance Village West
T Bone
Friday 22nd
Roots
Tacto Latino
Friday 22nd
Left Field – Stage 1
Tall Will
Saturday 23rd
ID Spiral
Tanglefoot
Saturday 23rd
Croissant Neuf Stage
Tarantism
Friday 22nd
Avalon Stage
Taylor Mac
Saturday 23rd
Lost Vagueness
Tayo
Saturday 23rd
Roots
TBC
Friday 22nd
Left Field – Stage 2
T-Bone
Friday 22nd
Left Field – Stage 1
That Lazysunday DJ
Sunday 24th
Pussy Parlure
The Annuals
Friday 22nd
John Peel Stage
The Automatic
Friday 22nd
Other Stage
The Babylon Ensemble
Sunday 24th
Avalon Cafe Stage
The Bays
Saturday 23rd
The Dance Village West
The Beat
Thursday 21st
Left Field – Stage 1
The Bees
Saturday 23rd
JazzWorld Stage
The Big
Sunday 24th
Croissant Neuf Stage
The Blessing
Saturday 23rd
Babylon Bandstand
The Blood Arm
Thursday 21st
Left Field – Stage 1
The Boat Band
Sunday 24th
Croissant Neuf Stage
The Bootleg Beatles
Sunday 24th
Acoustic Stage
The Breakfastaz
Friday 22nd
G Stage
The Broken Family Band
Saturday 23rd
Avalon Stage
The Cat Empire
Friday 22nd
Avalon Stage
The Cedar
Friday 22nd
Avalon Cafe Stage
The Cedar
Saturday 23rd
Babylon Bandstand
The Cedars
Friday 22nd
Babylon Bandstand
The Chemical Brothers
Sunday 24th
Other Stage
The Clap
Sunday 24th
Babylon Bandstand
The Cloghoppers Phil King
Saturday 23rd
Babylon Bandstand
The Coral
Friday 22nd
Other Stage
The Cosmic Sausages
Saturday 23rd
Avalon Cafe Stage
The Cribs
Friday 22nd
Other Stage
The Deadbeats
Saturday 23rd
Left Field – Stage 1
The Doubtful Guest
Thursday 21st
Babylon Bandstand
The Duckworths
Friday 22nd
Babylon Bandstand
The Dylan Project
Friday 22nd
Acoustic Stage
The Earlies
Friday 22nd
Pyramid Stage
The Egg
Thursday 21st
Croissant Neuf Stage
The Electric Soup
Thursday 21st
Babylon Bandstand
The Enemy
Sunday 24th
Other Stage
The Epstein
Sunday 24th
Acoustic Stage
The Fat 45s
Sunday 24th
Lost Vagueness
The Fratellis
Friday 22nd
Pyramid Stage
The Glimmers
Sunday 24th
The Dance Village East
The Go! Team
Sunday 24th
Other Stage
The great Xar/The Show Ponies
Sunday 24th
Avalon Cafe Stage
The Harp Trio
Sunday 24th
Croissant Neuf Stage
The Head Gardener
Friday 22nd
Glade Stage
The Heights
Saturday 23rd
John Peel Stage
The High Wire
Saturday 23rd
The Park Stage
The Holloways
Sunday 24th
Other Stage
The Horrors
Sunday 24th
John Peel Stage
The Hours
Saturday 23rd
John Peel Stage
The Hours
Friday 22nd
Left Field – Stage 1
The Huckleberries
Thursday 21st
Avalon Cafe Stage
The Huckleberries
Friday 22nd
Croissant Neuf Stage
The John E Vistic Experience
Thursday 21st
Pussy Parlure
The Johnsons
Thursday 21st
Avalon Cafe Stage
The Johnsons
Saturday 23rd
Avalon Cafe Stage
The Killers
Saturday 23rd
Pyramid Stage
The Klaxons
Friday 22nd
The Dance Village East
The Kleptones
Sunday 24th
Pussy Parlure
The Kooks
Saturday 23rd
Pyramid Stage
The Little Ones
Sunday 24th
The Park Stage
The Long Blondes
Saturday 23rd
Other Stage
The Loose Cannons
Sunday 24th
Lounge
The Lovers
Saturday 23rd
Lost Vagueness
The Magic Numbers
Friday 22nd
Pyramid Stage
The Mandibles
Thursday 21st
Babylon Bandstand
The Mandrake Project The Clap
Saturday 23rd
Babylon Bandstand
The Matzos
Saturday 23rd
Avalon Cafe Stage
The Men They Couldn�t Hang
Saturday 23rd
Acoustic Stage
The Mentalists
Saturday 23rd
Left Field – Stage 1
The Mighty Peas
Sunday 24th
Babylon Bandstand
The Monks Kitchen
Saturday 23rd
Avalon Cafe Stage
The Neville Staple Band
Saturday 23rd
The Dance Village West
The New Pornographers
Friday 22nd
John Peel Stage
The Nextmen featuring MC Wrec
& Zarif
Friday 22nd
Lounge
The Noisettes
Saturday 23rd
Left Field – Stage 1
The Pipettes
Saturday 23rd
Pyramid Stage
The Plump DJ's
Friday 22nd
G Stage
The Poise Rite
Saturday 23rd
Left Field – Stage 1
The Puppini Sisters
Sunday 24th
Lost Vagueness
The Rakes
Sunday 24th
Other Stage
The Ralfe Band
Friday 22nd
The Park Stage
The Rushes
Saturday 23rd
John Peel Stage
The Saw Doctors
Saturday 23rd
Avalon Stage
The Soundcarriers
Friday 22nd
Croissant Neuf Stage
The Storys
Saturday 23rd
Acoustic Stage
The Switches
Saturday 23rd
Other Stage
The Thirst
Thursday 21st
Left Field – Stage 1
The Twang
Saturday 23rd
John Peel Stage
The Vees
Thursday 21st
Lounge
The View
Sunday 24th
Other Stage
The Volt
Sunday 24th
Babylon Bandstand
The Waterboys
Sunday 24th
Pyramid Stage
The Waterboys
Saturday 23rd
Acoustic Stage
The Whip
Sunday 24th
The Dance Village West
The Who
Sunday 24th
Pyramid Stage
The Wraiths
Sunday 24th
Avalon Cafe Stage
The Wurzels
Sunday 24th
Babylon Bandstand
The Young Punx
Sunday 24th
Roots
The Young Republic
Sunday 24th
The Park Stage
Tim Deluxe
Saturday 23rd
The Dance Village East
Timo Maas
Friday 22nd
G Stage
Tinariwen
Sunday 24th
JazzWorld Stage
Tiny Dancers
Sunday 24th
John Peel Stage
Tokyo Police Club
Friday 22nd
John Peel Stage
Tom / Mira
Friday 22nd
ID Spiral
Tom / Mira
Saturday 23rd
ID Spiral
Tom Real V's The Rogue
Element
Friday 22nd
G Stage
Tony Benn
Sunday 24th
Left Field – Stage 1
Tony Benn hosts �Another
World is Possible� with Frances O�Grady (TUC),
Chris Baugh (PCS) and Shelter
Sunday 24th
Left Field – Stage 1
Toumani Diabat� &
Symmetric Orchestra
Friday 22nd
JazzWorld Stage
Trentemoller Live
Friday 22nd
The Dance Village West
Tristan
Sunday 24th
G Stage
Tron
Sunday 24th
G Stage
Tumble Weed Jim
Friday 22nd
Avalon Cafe Stage
Tunng
Sunday 24th
Avalon Stage
Twighlight Players
Saturday 23rd
Lost Vagueness
Uberzone
Saturday 23rd
The Dance Village West
Uberzone
Thursday 21st
Lounge
Uncle Buck
Friday 22nd
The Dance Village East
Unklejam
Sunday 24th
Lounge
Urban Myth Club
Friday 22nd
Lounge
Vertigo
Sunday 24th
Glade Stage
Very be Careful
Friday 22nd
Left Field – Stage 1
VERY SPECIAL GUEST
Friday 22nd
Left Field – Stage 1
VERY SPECIAL GUEST
Saturday 23rd
Left Field – Stage 1
Vexd
Saturday 23rd
G Stage
Vicky McManus
Saturday 23rd
Lost Vagueness
Vicky McManus
Sunday 24th
Lost Vagueness
Vitalic
Sunday 24th
The Dance Village East
Vladimir Steamboat
Saturday 23rd
Babylon Bandstand
We Don�t Play
Thursday 21st
Pussy Parlure
We Don�t Play
Friday 22nd
Pussy Parlure
Western Soul
Friday 22nd
Lounge
Western Soul
Friday 22nd
Lounge
Western Soul DJs
Thursday 21st
Pussy Parlure
Who's Got The Keys
Sunday 24th
Avalon Cafe Stage
Will Saul
Saturday 23rd
The Dance Village West
Willy Mason
Sunday 24th
The Park Stage
Winding Stair
Sunday 24th
Acoustic Stage
Wizz & Simeon Jones
Friday 22nd
Babylon Bandstand
Wombat
Thursday 21st
ID Spiral
XX Teens (Formerly Xerox
Teens)
Friday 22nd
The Dance Village East
Yoda
Saturday 23rd
The Dance Village East
Yoga Workshop Class
Friday 22nd
Croissant Neuf Stage
Yoga workshop class
Saturday 23rd
Croissant Neuf Stage
You Say Party We Say Die
Saturday 23rd
John Peel Stage
Young Knives
Sunday 24th
John Peel Stage
Your Garden Day
Friday 22nd
Avalon Cafe Stage
Your Garden Day
Sunday 24th
Avalon Cafe Stage
Youth Music Award Build a
Protest band winners
Sunday 24th
Left Field – Stage 1
Youth Music Present:
Sunday 24th
Left Field – Stage 1
Zen Hussies
Friday 22nd
Pussy Parlure
Zen Hussies
Saturday 23rd
Babylon Bandstand
Zero DB
Sunday 24th
The Dance Village East
Zudance Aerial
Saturday 23rd
Lost Vagueness
Zzz
Saturday 23rd
Left Field – Stage 2