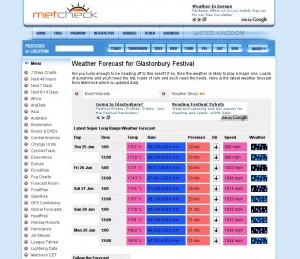 Well, Metcheck have a rather gloomy prediction for the 2009 Glastonbury Festival – apparently we can look forward to just over 1000mph winds over the 5 days, with around 85km of rainfall per day.
For those of you that think this may put a damper on the festival, I have good news: none of this will matter, as temperatures are set to hit around 1800°c – which leaves me a little torn over whether to pack waterproofs or shorts.
The report is here – but seeing as (I'm hoping) it will be updated, click the image in the top left of this post for a screenshot!
Remember to pack your suncream everyone… and your snorkel. 🙂
Hat tip Glastowatch.