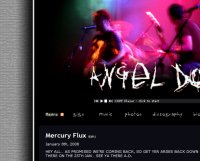 After realising last week that I'm still paying for 3 separate web hosting packages, this weekend seemed like a good time to think about consolidating all the sites I'm hosting for people onto a single server. 2 of the sites I put together when I first started out and so need to be recoded from classic ASP to PHP. The result of the first conversion – AngelDown.co.uk v3.
Now built on WordPress, the site upgrade now allows commenting on individual posts, auto sitemap generation, the code is a lot cleaner (I'm a lot better at CSS now than I was 2 years ago!!) and it should make any future additions a lot easier (theres been some talk of selling band merchandise from the website…).
The drummer's my flatmate – hence the fact I agreed to a day of unpaid work! Check them out – http://www.angeldown.co.uk/. They've knocked out a few good tunes over the last few years – "Still falling" is a personal favourite of mine.
Credit to GigPress, which on its own made the entire project worth doing – writing a gig admin back-end myself would have taken a least a day, this plugin took me less than an hour to customise.