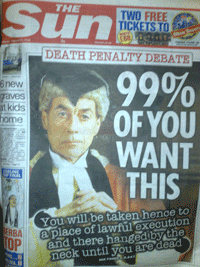 Just when I thought The Sun "newspaper" couldn't sink any lower into the gutter, I pass the newspaper rack in my local petrol station and see possibly the most depressing front page I can remember:
http://www.thesun.co.uk/sol/homepage/news/justice/article841077.ece
Things like this are what can make a person disappointed in Britain. If this is true (assuming this isn't bullshit made up by their editorial team – it wouldn't be the first time), then the implication is that 99 out of every 100 sun readers think the death penalty should be a viable option when sentencing for certain types of crimes. I don't know whats worse, the people that picked up their phone and spent money to vote that human beings should be institutionally murdered or the Sun for validating this "news" by printing it.
What sort of logic dictates that to punish someone for taking a life, you should take their life?!?!? Dear GOD am I the only person who sees the hypocrisy in that?!? (well, me and 610000 other people in Britain according the Suns stats… :wink:)
If you want more info on how much of a joke the Sun are, buy todays paper and marvel at how they've stretched this sensationalist bullshit over 5 PAGES.
The truly unbelievable part is the wealth of "experts" they wheel out to quote. All families of victims of murders – except Mark Wright, son of Steve Wright, who was apparently "abandoned" at 2 years old – all, arguably, making a judgement based on emotion rather than logic. Does the Sun see this as acceptable behaviour? I can't help but think that contacting the relatives of a murder victim for a quote is a little on the sick side.
Incidently, I used to read the sun when I lived with my parents. The last time I ever took it seriously was before the Beckham-Loos "scandal", where they dedicated pages 2-11 to it. Yep, 9 whole pages.
The Sun – its rags like you that make me glad "old media" is dying. Harsh, but true.
p.s. Sorry for the rant 😉