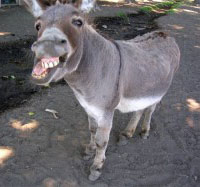 AAAAAAAAAAARGH! Ok, now that's out of my system.
If you're a regular reader (hi mum! 😉 ) you'll already know about the whole debacle whereby Fitness First thought it was perfectly acceptable to re-setup a Direct Debit I'd cancelled 3 months before. In which case you'll probably remember I wasn't best pleased… in fact, I thought it was pretty shitty.
Well it seems Fitness First agreed… I received a call from *** at their head office on the 4/8/2008 after a link to my post was forwarded to him by a member of their press office. The basic gist of this conversation was a number of apologies (which I appreciated was a nice gesture) and, more importantly, resolution! He agreed – no, he offered to "refund" me the £30 I was charged as a result of their actions, plus he offered me 2 months free… the month I missed while in dispute, plus this month. I'll be honest – I was relatively happy. In fact that I hardly said anything during the conversation, I just listened and agreed. Maybe that was partly down to shock? Either way, all seemed good.
And so after clarification, I was told that the debt had been wiped and I would be able to go back to the club within the next hour, so I gave him the correct details to restart the direct debit. Even so, I decided to leave it a few days to give them a chance to not piss me off again.
Whats happened between then and now has been, ummm, comedy?
The next contact with Fitness Fitness was on the 6/8/2008 at 15:05 when I received a text message:
Dear Member, to avoid additional charges on your membership account, please call us on 08452710770 urgently.
<sigh>
I initially decided to ignore it as it was probably a mistake… surely. So I was a little confused when I got home and found 3 letters on my doorstep, all marked "Fitness First". The gist of these letters is as follows:
#1. We are refunding you £30
#2. Confirmation of setting up a new direct debit
#3. We were unable to process your debit debit this month… please contact us immediately.
Seriously?
On top of that I notice the Direct Debit had been raised to £30.50 a month from the previous £29. OK, its not much, but after all this bullshit its come down to being a matter of principle.
So I rung Fitness First member services. Again. The girl I spoke to advised me that there was a note on my account that the debt would be wiped… BUT it was still showing as valid, so she assured me she was removing it there and then. Great. With respect to the Direct Debit, I wanted to know why the charge had been raised without any prior notice – after all, that's what this has been all about all along – going behind my back and trying to pinch money out of my account without asking me if its OK. To my surprise she put me on hold, and came back to tell me she'd spoken to **** again (the guy I spoke to originally) who had told her that due to the issues I'd had, they were willing to reduce my membership back to £29.
I decided to be optimistic and take their word for it. Hopefully now, this would be over.
But no. On the 12th I receive another letter "reminding" me I'm still in arrears (with a couple of coupons to bring a friend with me for free – nice) and then 13/8/2008 I receive another text, essentially the same as the one they sent 8 days earlier. And so, i rung again.
Again, I'm assured the debt has been wiped. He also told me that the last letter had been generated on the 6th (even though the last one I received was dated the 8th) and todays text message must be a "crossover". A 5 day crossover? For a fucking text message? I could have typed the message with my nose and it still would have taken less than 5 days. I also asked, since he was so sure that the debt had been cancelled, whether he would guarantee I wouldn't receive any more texts/messages. He wouldn't. 😉
At this point, it stops being funny and turns into a "shake your head in disbelief" moment.
This friday gone (22/8/2008) I receive another letter, dated 13/8/2008, to confirm my direct debit has been set up – again. This particular line made me smile (emphasis mine):
Consequently, your monthly debited fee of £30.50 will recommence on the 01/09/2008
lol. So, the result of my phone call was that someone re-set up the direct debit… for the exact same amount. Then sent me a letter to rub it in!!
And now, to cap it all off, I have 2 Fitness First Direct Debits visible on my online banking.
So I rung Fitness First AGAIN. Turns out it is still showing as £30.50, but the notes on my account clearly say it should be £29. I asked him to get it sorted. 3 people have now promised me resolution and failed, lets see if the 4th has any luck.
I'm struggling for ideas now on how work through this incompetence and get it fixed. For the first time I'm actually considered quitting and just paying more to go to the Virgin gym up the road, simply because I don't think they deserve my money anymore. Either way, unfortunately, they have my bank details so the best I can do is just keep an eye on my bank account and make sure they don't take more than they're supposed to.
So… its not over yet. Lets see what happens, eh?
See also: