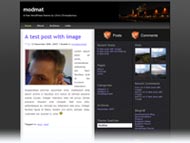 Introducing Modmat – my second attempt at the WordPress themes game, and a little more elaborate than my first effort: *unplanned.
As the title says, Modmat is a 3 column, widget ready theme originally based on the Sandbox template. This theme allows you to choose between a 775px and 975px width from the options menu, as well as choose between one of the 5 included header graphics or switch to "random header" – which will display a random image pulled from the headers folder. You can also add your own headers by adding them to this folder and selecting via the menu.
To download the theme or view the preview, check out the Modmat project page.
(Note: The screenshot above is of the 775px view mode. You can see an example screenshot of the 975px view mode here.)