About a month ago I made a mental list of the absolute "essentials" for Glasto – ie, the things that no camper should be without – 3 shopping trips later, I finally have all but one of them here so I thought I'd share my list with the world – if it stops one person from making a mistake Ive made in the past, then it'll have done its job! 😉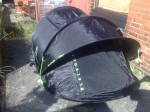 1. Two Skin Tent
Oh man, I can't stress enough how much you need one of these. Seriously, if you're planning on coming to Glastonbury in a single sheet dome tent, you may want to reconsider… unless you have friends that are willing to help you gaffer tape plastic sheeting to your tent at 4am when you wake up in a puddle. When (not if) it rains, you want to know you've got at least one place you go where its going to be dry…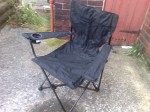 2. Folding Chair
I never realised how important this was until last year, but when you've been walking around all day, you're knackered and the floor is either a mud-bath or mini lake, you'll want to hug for me for convincing you to take one of these.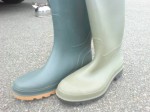 3. Wellys
I haven't actually got any wellys yet this year, so here's a picture of my classic pair from last year. Yeah, yeah, I know they're not matching – they're not even the same size, but thats a completely separate story. 2 years in a row I tried to get away with wearing boots instead of wellys, 2 years in a row I ruined perfectly good pairs of boots (sorry Mr Eavis, I won't leave my footwear behind again honest). Trust me when I say, there is no alternative… just make sure you bring a pair.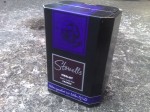 4. Box of Wine
Don't let the fact that its alcohol fool you – this is more important than any of the previous 4. Why? Well, if the tent fails, the wellys leak and the chair breaks, you won't give a damn once you've finished the wine! The added bonus is that you can take the bag out of the box and get them through security without a problem. (Update: Thanks to Rob for pointing out that aside from the obvious benefits of a box of wine, when you've finished you can also blow the inner bag up and use it as a makeshift pillow! Multifunctional or what?? 😀 )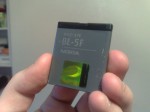 5. Phone batteries
OK, this is a little biased because uploading photos to flickr from my phone will kill the battery in a day, so I generally try to take 3 or 4 7 (after I successful photo uploading mission at the Isle of Wight Festival I've discovered 7 is the magic number!). Either way, take at least one spare… people may have mentioned to you that theres an "Orange Tent" where you can charge your phones, but after trying last year I couldn't describe a worse hell. Imagine 50 chargers and 500 people trying to use them at any one time – it really is that bad. Unless you're willing to dedicate a day to getting it charged, I'd avoid it at all costs.

[Update]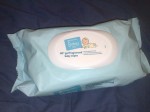 6. Wet Wipes (Thanks Stevie.P)
I almost forgot how bloody useful these are when you're there. By entering the Glastonbury gates you forfeit any realistic chance of showering for at least 3 days, so these are the closest you'll get to being clean. From wiping random mud off you, to the Aussie shower you can enjoy in the morning, wet wipes are like the swiss army knife of hygiene. 🙂

[Update 2]
2 years on and I've extended the list – essentials 7-11 can be found here!
And there you have it. My 5 6 most essential items for Glastonbury. Some may argue that there are more essential things than a box of wine or a chair, but this is the first year Ive been organised enough to take my own tent. What did you expect? 🙂
p.s. – In answer to a few emails I've had about this post (seriously)… yes this list can apply to any festival! T in the Park, V festival, Global Gathering, Creamfields… even your bog-standard camping trips! Its not limited to Glastonbury in any way – in fact, I'm amazed that 4 people that have taken the time to email me to ask!!! Not that I'm complaining – I just love the fact that people are actually reading this and taking note 😛